Custom Solutions
Deciding to have a custom solutions built for business can be challenging. Hiring developers to create custom software packages for your business can be a daunting decision. Let MYDB Solution help you to determine if a custom solution is right for you.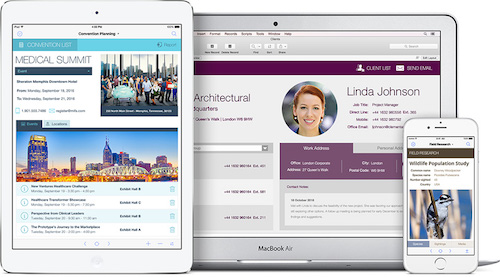 Benefits
The most important benefit of custom solutions, is that it is made your specific business needs.License software can often turn out to not suitable for yourr business, with custom business software, you will be guaranteed that the software makes a great fit for all of your business' requirements.
Scalability
Custom solutions are more scalable than off-the-shelf software packages. As your business grows a custom solution can grow with you. Custom software development meets the needs of your company while allowing your business to grow without being limited by your software.
Maintenance
A custom solutions, is maintained for as long as you require it to be. With off-the-shelf software, you are at the mercy of the software developer, if they no longer maintain the application or go out of business, your business will be put in the position of suddenly needing to change software packeages. This can sudden and not inexpensive burden for your business.
The FileMaker Platform
The FileMaker Platform is simply powerful software used to create custom apps that work seamlessly across iPad, iPhone, Windows, Mac, and the web. Easily manage contacts, inventory, projects, and more. Unlike packaged apps or programming tools, custom apps meet the unique needs of your team, helping to transform your business.